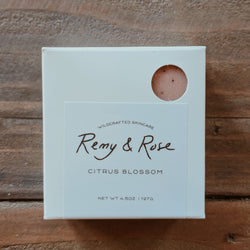 Citrus Blossom Soap
This complexion soap is packed full with healthy ingredients to help brighten, rejuvenate, and gently clean the skin. It will leave your skin smooth and soft.
Great for the body & face.
Ingredients: organic olive oil, organic rice milk, rice bran oil, organic coconut oil, sodium hydroxide, fair-trade organic shea butter, organic avocado oil, organic castor oil, argan oil, adzuki bean powder, rose clay, kaolin clay, essential oil blend.
Made in Denver.