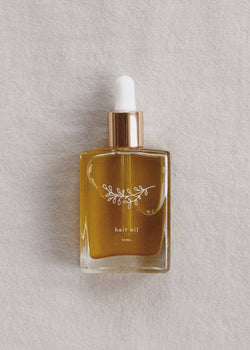 Hair Oil
An antioxidant and nutrient-rich hair oil, with whole botanicals to nourish, strengthen, and support health of hair and scalp for softer, smoother, and more lustrous hair. For all hair types.
Scent: Warm, soft, floral, embracing.
Ingredients: Jojoba oil, cedar, horsetail, lavender, nettle, rosemary, jasmine absolute, vitamin e oil.
30 ml glass bottle. Organic Ingredients. Handmade. Vegan.