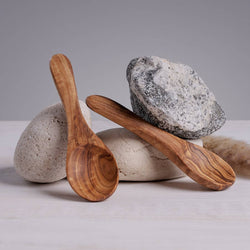 Small Olivewood Spoon
Hand-carved olivewood spoon.
Olivewood is naturally extremely hardy and resistant to bacteria. It makes spoons and other kitchen / beauty accessories made out of it a great companion for mixing a facial masque, scooping loose leaf tea & herbs, or scooping a yogurt when traveling. Olivewood does not swell in water and does not splinter like most kinds of wood. It makes it a great baby feeding accessory!
Length: 3.5" | Sizes & shapes slightly vary