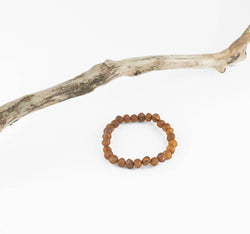 Raw Baltic Amber Bracelet
This Baltic Amber Bracelet is beautifully handmade, comfortable, lightweight. Wearing Baltic Amber will help boost your immune system, reduce inflammation and restore oxygen to the body, all naturally.
Amber Jewelry has been a source of traditional healing passed on for many generations and is widely used + treasured throughout the world as an alternative medicine with proven health benefits.
Adult size : 7'