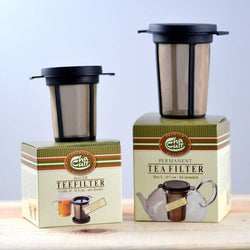 Permanent Tea Filter
Made in Germany, these double-twilled stainless steel mesh filters won't impart any flavor of it's own to your tea. The filters have a heat-tolerant black plastic frame, with two convenient handles and a lid/drip tray. Each filter comes with its own lid to keep your tea hot, while brewing, and to serve as a drip-catcher. For cleaning, we suggest just running the filter under hot tap water.
 Medium size, fits inside most mugs.