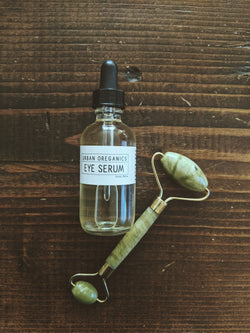 Serum + Jade Roller Gift Set
Boost circulation with our favorite eye serum + facial jade roller for use after applying oil on the face. 
• Eye Serum - not just for around the eyes, but a great moisturizer for the whole face as well! Plant ingredients reduce the appearance of dark circles and puffiness. 
Ingredients:
Sweet almond oil*: anti-aging, reverses/protects against UV damage, reduces hyper-pigmentation
Castor oil*: lengthens/conditions lashes and brows, treats acne, anti-inflammatory, anti-aging, reduces pigmentation
Evening primrose oil*: moisturizes, improves skin health, treats acne, reduce hyper-pigmentation
Carrot seed oil*: revitalizes and tones skin
Non-GMO vitamin e oil: protects and repairs skin
*organic
 • Facial Jade Roller - supports lymphatic drainage, depuffs, and provides relaxation and stress relief. Simply roll underneath eyes, along forehead, cheeks, and neck after applying serum. 
*Tip: add a drop of lavender oil to serum to help with dark eye circles and help brighten your skin.